Power House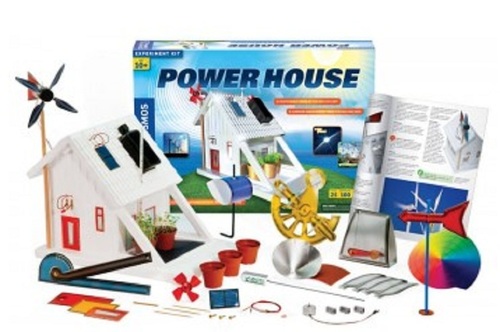 Power House
Product Description
Brand: Thames & Kosmos
Product Code: 1221518
Human civilization's energy consumption is growing. Atthe same time, the harmful environmental impact of our energy usage is becomingapparent. A massive global effort to adopt renewable energy and use ourresources more sustainably has begun.
To live sustainably, we must use Earth's resources at arate at which they can be replenished, and thus provide for future generationsto live as we have.
With this kit, you can learn about alternative energy andsustainable living by conducting 100 experiments and building energy relatedmodels. Build the Power House and then conduct experiments in and around thehouse. Learn about energy-efficient construction materials and passive housedesign. Experiment with heating, cooling, conduction, convection, andinsulation. Investigate Earth's climate, the water cycle, and thatinexhaustible power plant in the sky: the sun. Test passive solar collectionmethods with a solar collector. Hook up a photovoltaic solar panel to generateelectricity from sunlight. Build wind turbines to extract energy from the wind.Construct a greenhouse and learn about the energy conservation tricks used byplants.
Power House provides a comprehensive overview of the manyforms of alternative energy, and makes environmental protection and energyconservation issues tangible with hands-on models. The 64-page, full-colorexperiment manual provides instructions, scientific explanations, andenergy-saving tips.
Features:
Ages: 10+
Experiments: 100
Subject: Alternative Energy
Dimensions: 21.3" x 14.6" x 3.8"
Weight: 2.8 pounds
No Batteries Required
Year Released: 2011
Awards: 2009 ASTRA Best Toys for Kids Winner and 2010 Toy innovation.