Patterned Electrodes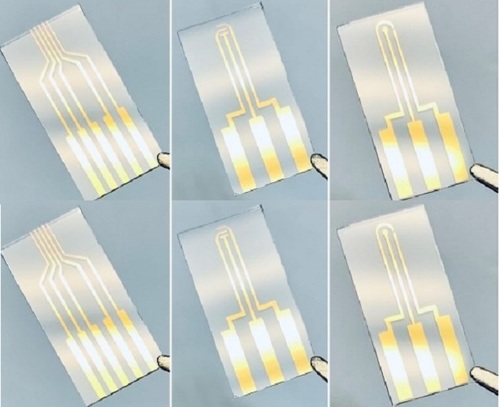 Patterned Electrodes
Product Specifications
Patterned Electrodes

Patterned gold thin films
Product Description
Patterned Electrodes
Patterned gold thin films on glass fabricated via e-beam metal evaporation. Titanium adhesion layer between gold and glass improves mechanical stability of gold film. Gold films exhibit high purity (99.999%) and low surface roughness (nanometer-scale roughness). These electrodes are fabricated without photoresist or organic solvents which may contaminate the surface of gold. Ideal for applications in MEMS Biosensors (bioMEMS), chemical sensor chips and microelectrodes.
Features
Excellent reproducibility
Low surface roughness for high sensitivity and resolution
High purity gold, no pre-cleaning required
Transparent glass substrate enables optical analysis

ResistivityElectrode

This5-probe microelectrode can be used for measuring sheet resistance (e.g. 4-pointprobe or kelvin method), impedance or conductivity of biological tissues, 2Dmaterials, nanomaterials, polymers, advanced materials. Gap distance: 345m 5m; Finger width: 160 10 m; Chip dimensions: 20 mm x 10 mm x 0.7 mm; 8chips per pack.
ThreeProbe Electrode
Thethree (3) probe microelectrode chip is ideal for designing and testing newchemical sensors. Gold provides high conductivity, and the transparentsubstrate allows for optical imaging of sensing layer. Applications includetransistors (FETs, HEMTs, BioFETs), chemical sensors and biosensors. Gapdistance: 350 m 5 m; Finger width: 150 m 5 m; Chip dimensions: 20 mm x10 mm x 0.7 mm; 8 chips per pack.
DiskElectrode
Thisdisk electrode chip is ideal for electrochemical experiments of solutions anddroplets via electrochemical impedance spectroscopy (EIS) or cyclicvoltammetry. The center disk electrode serves as working electrode, whileeither one of the side electrodes can serve as auxiliary electrode or referenceelectrode. Gap distance: 490 m 7 m; Finger width: 270 m 5 m;Diameter of working electrode: 590 m 5 m. Chip dimensions: 20 mm x 10 mm x0.7 mm; 8 chips per pack
Trade Information
Middle East, Eastern Europe, North America, Australia, Asia

All India