FLEXIBLE CARBON FILLED CONDUCTIVE EPOXY G6E-FRP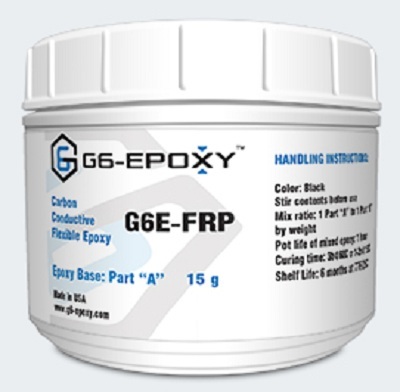 FLEXIBLE CARBON FILLED CONDUCTIVE EPOXY G6E-FRP
Product Specifications
Black

FLEXIBLE CARBON FILLED CONDUCTIVE EPOXY
Product Description
FLEXIBLE CARBON FILLED CONDUCTIVE EPOXY G6E-FRP
Our Conductive Carbon Filled G6E-FRP epoxy is a more flexible, lower stress version of G6E-P epoxy. It is a two-component electrically conductive adhesive formulated based on the mixture of nanocarbon particles designed to combine high flexibility and good electrical/mechanical properties. G6E-FRP can be used for high performance bonding, sealing and coating. The conductivity of G6E-FRP is not sensitive to curing temperatures and ambient conditions.
PRODUCT INFORMATION:
.TWO COMPONENT SYSTEM: Part A – black paste, Part B – black paste.
.THE MIX RATIO: 100 (Part A) to 100 (Part B) by weight.
.CURING INSTRUCTIONS: Best results are obtained when the product is cured at one of the followting schedules: 24 hours @ 25°C/77 F, 4 hours @ 80°C/176 F or 2 hours @ 120°C/248 F
.Color: Black
.Pot life: 2 hours
.Glass Transition Temperature: 43°C/109 F
.Mixed Viscosity: 285 – 295 Pa·s at 25°C/77 F
.Hardness, Shore: >70A
For any further query please contact us.

Trade Information
Middle East, Eastern Europe, North America, Asia

All India
Technical Data sheets are available upon request