Reduced Graphene Oxide Foam Granules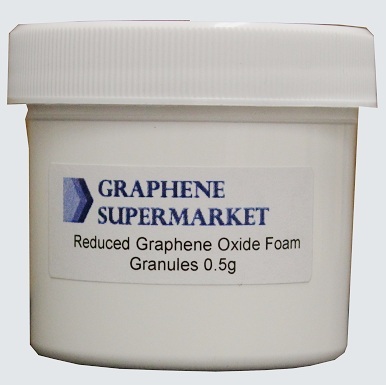 Reduced Graphene Oxide Foam Granules
Product Specifications
3 - 10 millimeters

Foam Granules
Product Description
Specifications:
. Sample Size: 0.5g
. Purity: >99%
. Density: 20 mg/cm3
. Average Granule Size: 3 - 10 millimeters
. Volume Conductivity: 5 Ohm x cm
Applications:
. Absorption- Foamed RGO structure is hydrophobic and is not wetted by water, hence can be utilized as a sorbent material. It exhibits remarkable absorption of organic solvents and petroleum products. It has been shown that reduced aerogel can absorb vacuum oil up to 37 times its weight.
. Energy Storage- It can also be employed as an electrode for electrochemical applications as this item displays great volume resistivity.
. Sensors- An ideal material for 3D gas and biosensors. Robust 3D network allow easy incorporation in devices.
. Composites- Unique three-dimensional structure facilitates dispersion of reduced graphene oxide in polymers and epoxies minimizing agglomeration of graphene platelets, the most common issue negatively affecting properties of graphene composites.
Trade Information
Asia, North America, Eastern Europe, Middle East

All India