CARBON FILLED CONDUCTIVE EPOXY G6E-P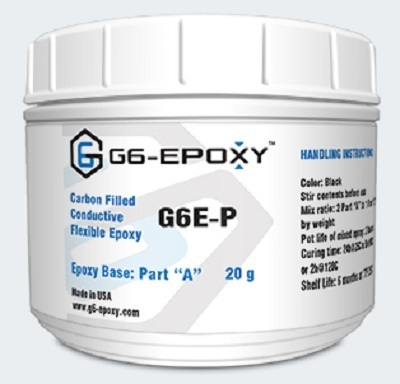 CARBON FILLED CONDUCTIVE EPOXY G6E-P
Product Specifications
Black

CARBON FILLED CONDUCTIVE EPOXY
Product Description
CARBON FILLED CONDUCTIVE EPOXY G6E-P
G6-Epoxy G6E-P is a two component electrically conductive epoxy for high performance bonding, sealing and coating. It can cure at room temperature or more rapidly at elevated temperatures. The optimum cure schedule is overnight at 25°C followed by 4 hours at 80°C. G6E-P has a thick paste consistency after mixing and bonds well to a wide variety of substrates including metals, composites, ceramics, and glass.
PRODUCT INFORMATION
. TWO COMPONENT SYSTEM: Part A -Black paste, Part B - Black paste
. THE MIX RATIO: 100 (Part A) to 50 (Part B) by weight.
. CURING INSTRUCTIONS: Best results are obtained when product is cured at one of the following schedules: 24 hours @ 25°C, 5 hours @ 80°C or 2 hours @ 120°C
. COLOR: Black
. POT LIFE: 2 hours
. GLASS TRANSITION TEMPERATURE: 70°C
. MIXED VISCOSITY: 145-155 Pa·sec at 25°C/77°F
. HARDNESS, SHORE: >75 D
. VOLUME RESISTIVITY: ~ 5 Ohm x cm
. DENSITY: 1.0 -1.1 g/cm3
For any further query please contact us.

Trade Information
Middle East, Eastern Europe, North America, Asia

All India
Technical Data sheets are available upon request